Events Planned:
November 18, 2017 Kannada Rajyothsava
Kannada Rajyotsava is our annual end of the year event celebrating the formation of Karnataka state as well as providing an opportunity for our Sangha members to come together and showcase their talent and creativity. Our goal is to ensure maximum participation and promote our next generation to learn, communicate and entertain in Kannada.  Please join us for a beautiful evening of cultural programs, food and social time. Snacks and Tea will be served from 4:30 – 5:30 pm only. Sumptuous Dinner will be served at the end of program, 7:30 PM.
Tickets are available online. Purchase your tickets before Nov. 15th and save. Tickets at the gate or after 15th of Nov will be higher.
Cultural Program Entries: Cutoff date for sending registrations is November 8, 2017. Please send your entries to CulturalCommittee@OrlandoKannadaSangha.org
If you have any questions, please do not hesitate to reach us anytime at suddhi@orlandokannadasangha.org.
Here are the fees for members, non-members and students. Please pay before November 15th to be considered for 'Early Bird' pricing.
| | |
| --- | --- |
| | Entry Fees |
|  Member Adult |  $20 |
|  Member Kid |  $10 |
|  Non-Member Adult |  $25 |
|  Non-Member Kid |  $10 |
|  Student |  $15 |
No cost for kids under 10 years.
Click here for Membership details.
---
Kannada Kali Program, October 6, 2017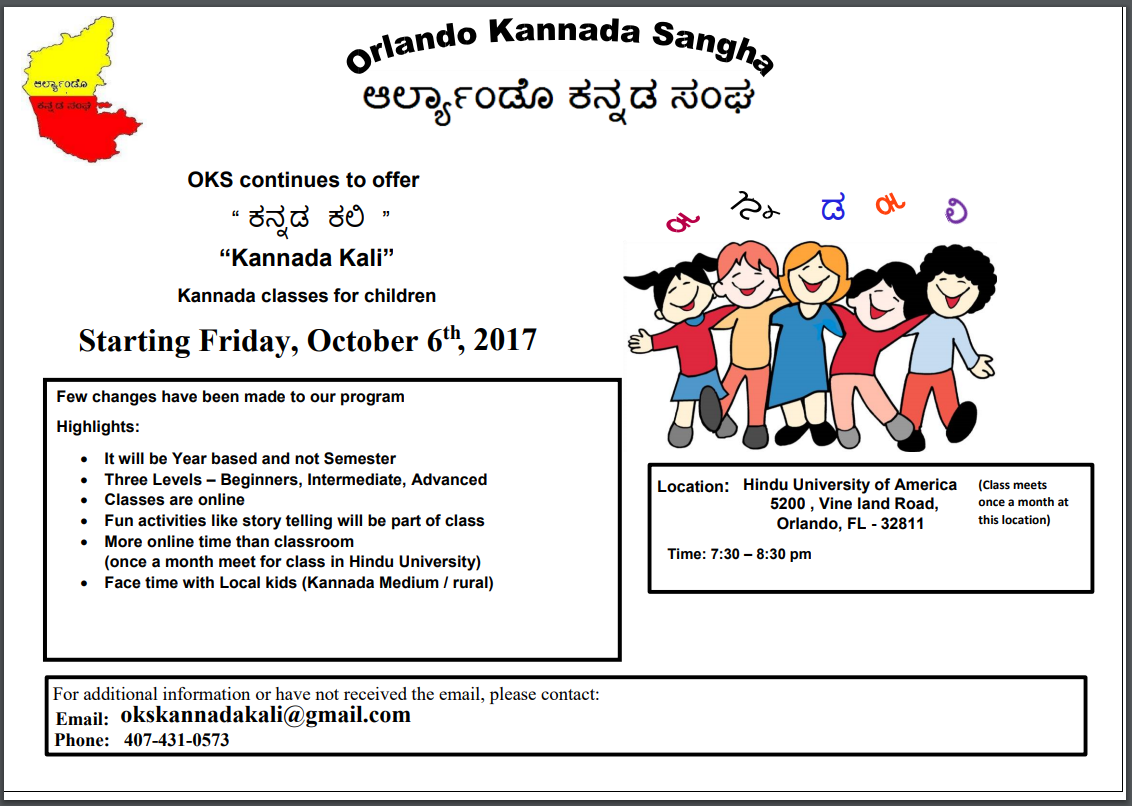 Completed Events:
April 1st, 2017 Ugadi Picnic
May 7th, 2017 – Concert by Smt. Manjula Gururaj and Badari Prasad
August 5, 2017 – Youth Conference